Customer Reviews
Write a Review
Ask a Question
Filter Reviews:
rink
skates
pond pack
EVERYTHING
room
quality
gloves
helmet
tape
hockey bag
11/21/2020
Anthony M.
United States
PERFECT! and not just for ponds.
My local rinks still won't let us dress inside because of COVID concerns so we've all been getting dressed in the parking lot. The rinks will let us bring in backpacks and I've seen others use this to bring in all their final dress items like shin guards, skates, helmets, tape, water bottle, etc... My regular backpack simply wasn't cutting it as I could only fit my skates inside it so I purchased the Pond Pack. I've had it for a few weeks now and can confidently say its the best hockey related purchase I've made in years! There is in insane amount of room in it. The materials are super high quality. It's really the perfect substitute for when you can't use your hockey bag in this COVID world we're all living in. The Pond Pack has made me a huge fan of Pacific Rink. Seriously, buy with confidence, it's worth it.
10/24/2020
Michael L.
Canada
Amazing pack
This pack has it all and then some , would recommend it to anyone , the Quality of this product is unbelievable , like nothing else out there
10/24/2020
Geoff S.
United States
CH
10/15/2020
Christopher H.
United States
Pond Pack
For my youth hockey player (10U) who has smaller, less bulky gear, this bag is perfect! The traditional hockey bags our club sold us were too big for my son to carry - even with the straps over his shoulder, it dragged on the ground and was just too bulky. With the Pond Pack, all of his gear (knee, elbow, shoulder pads, hockey pants, gloves, a couple of jerseys and pairs of socks, skates and helmet) all fit within the bag, the side skate pockets, and the helmet strap. I know this bag is made for adult "beer league" players, but this bag is perfect for 8U, 10U, maybe even 12U players to carry all of their own gear.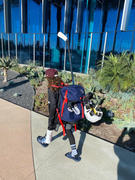 10/15/2020
M R.
United States
Well constructed
Have had this bag for over a year now and still appears as if it was new. It's nice to use while going to the rink to coach the kids and having to carry other pieces of equipment.