Customer Reviews
Write a Review
Ask a Question
Filter Reviews:
storage
Organizers
bucks
duty zippers
pads
plane trips
hockey season im pause
construction
Worth
roller bags
07/27/2021
Nathan P.

Canada
I recommend this product
Very well made but has issues.
Let's start off by saying, this is probably the most well made hockey bag I've ever seen/had. That being said, it's got some issues that don't work for me. I use this as a player bag since because I have issues fitting my stuff in regular sized bags. The dividers are 100% useless. Every piece is gear is longer than they allow. So you can't use them. The skate pockets are awesome but they are floppy and need to have a way at attach to the sides solidly. Since the bag doesn't hold its shape, they flop around and stuff gets stuck under them and it's really annoying. The top pocket again is floppy, so if you have your tape or stuff like that into it, it collapses into your bag and was the first thing I noticed I really disliked. It would be nice to have an insert to make the pocket have a stiff bottom/middle, the fuller it gets, the worse it is. I'd also like to see more padding on the backpack straps. I have more padding on a 25$ backpack….. The good is all the snaps and zippers are extremely good quality. There lots of room once the dividers are out. The material seems like it will last for years. It's got some smart pockets and really like the helmet/clothes bags. Would I buy it again? Probably not. It's also the most expensive bag I've ever had by a long shot and would have to give it a few years to see how it holds up.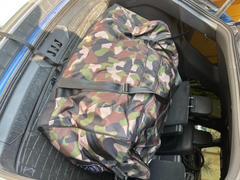 04/18/2021
Frank K.

United States
I recommend this product
Great for travel and organizing!
Overall, this is a 5 star bag! Very durable materials and construction ensure this bag can not only take on trips to the local rink, but also long hauls via an airplane. I wear 33+1 leg pads and have some more "bulky" warrior gear, but am still able to fit everything inside...with room to spare! The added helmet and laundry bags are a great touch as well. The organization and visibility of your gear is also a nice change from having to dig through a dark bag to find something that shuffled around. When it comes to the size of the bag, this is definitely one of the bigger bags on the market. But you're able to fit all your gear, minus sticks, inside, which is perfect for when you need to fly. The materials used and construction of the bag will definitely withstand the tossing around from airline ground staff too. The only downside: there is now ID window, and you're forced to use a luggage tag. The mesh laundry bag is a great innovation allowing you to consolidate all your dirty laundry into a machine washable mesh bag. Now washing your gear is a simple as throwing a bag in. Once your gear is clean, there's a nice pocket in the top flap of the bag that is waterproof and separate from the main compartment to store everything for your next session and stuff to change into afterwards. This pocket can easily be accessible from the top with the flap closed, or from the inside with the flap open...genius! The inside is semi-reflective which allows you to clearly see everything inside; no more lost gear! There's a couple of pockets on one end to organize some smaller things. I've found that my post pegs fit perfectly in there so they're not damaging my gear. Lastly, but certainly not least, the backpack straps are a game changer when it comes to carrying a bag of this size. One of a kind when it comes to the carry style of this bag. I don't want to complain about it, but I do feel more R&D could be done to improve the backpack carry comfort of this bag.
01/20/2021
Jim R.

United States
12/28/2020
Ammon M.

United States
12/14/2020
Anonymous

United States
I recommend this product
Live the new goalie bag
He lives it and it carries everything and as always love the organization