Customer Reviews
Write a Review
Ask a Question
Filter Reviews:
gear
EVERYTHING
room
quality
bags
pockets
organization
hockey bag
dividers
storage
06/10/2021
Tim B.

United States
Best bag everrrrr
Bag is unreal. It's so nice to be a bigger fella and have things fit!
05/25/2021
Patrick A.

United States
Great bag
So far, it is a great bag. I've only had it for a couple of weeks, but it is well constructed, lots of storage and cool innovations in how things are stored inside and outside the bag.
05/19/2021
Doug

United States
Organization and durability
I love this bag. I am coming from a basic Bauer bag. I used to get so frustrated with the lack of organization and breathability. This bag sorts out both. I love the dividers and reflective bottom, as well as the pockets that are perfect for organizing tools and dry or wet clothes. The size is excellent for a large player (I wear 2XL everything). The skate pockets are really well made as well. My favorite feature is the dual sided top flap that allows for access to jerseys and other dry clothes from inside or out. Durability the materials feel truly premium. I also like that there is venting on one side, but isn't totally exposed to help with durability as well.
05/05/2021
Abigail L.

United States
The Greatest Bag of All Time
That's right. I capitalized each word in my review title as if it were a novel, because it's about to be one when I write about this bag. First, these people are legit. So friendly, and very quick to respond to chats/questions. Second, the bag is stellar. There is so much room for all of the gear, plus extras, if needed. The venting is brilliant, and keeps the bag less gnarly after a long night of hockey. There are so many compartments that you could live out of this bag, if you wanted to. The backpack straps are a nice touch, and easily adjustable. If you don't have this bag already, get one. I'd say buy two because they're so awesome, but you won't need a backup because they're such good quality. Hell yes for Pacific Rink.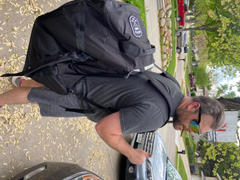 05/04/2021
Ryan B.

Canada
Best bag I've ever owned
I've owned a number of bags over the years from the low-end, single pocket bags, through to Grit tower and Grit Airbox bags. I really enjoy having a bag with organization inside and pockets for storing tape, scissors, etc. This bag has it all! I've been very happy with the build quality as well. I would like to see more aeration on the bag but overall, it's a 5 star for m!